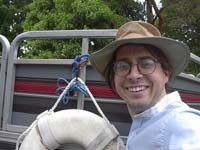 Director, River WaterWorks
Morgan Simmons graduated from Carnegie Mellon University with University Honors in the year 2000 with a degree in Mechanical Engineering. For the past five years he has been employed as an engineer working and teaching aboard the Sea Education Association's 130' sailing vessels SSV Corwith Cramer and SSV Robert C. Seamans (http://www.sea.edu ). During that time, he taught fundamental mechanical and electrical concepts of the "way things work" to undergraduate college students while simultaneously maintaining and repairing the systems on the ships. His sailing travels have taken him throughout the Atlantic and Pacific Oceans as well as the Caribbean Sea.
Morgan currently holds a valid Captain's License issued by the United States Coast Guard for operating vessels of not more than 100 gross tons on inland waters. His medical training includes Basic CPR/First Aid and Wilderness First Responder Certification.
When not working on boats, Morgan has toured around the United States on a bicycle. His travels have included a round-trip ride from Somerset, PA to Key West, FL and a one-way cross-country trek from Woods Hole, MA to San Francisco, CA. Morgan's good physical conditioning will be of use as he helps to power the BPV Libelula downriver this fall. Morgan will be eating a lot of peanut butter, one of his favorite foods, in order to move that boat through the water.
Captain Simmons is also an avid musician who plays a range of instruments including the Accordion, Double Bass, Trumpet, and Piano. He is also an accomplished musical whistler, and participated in the 2003 International Whistling Competition held in Lewisburg, NC. His musical skills are complemented by performance skills such as juggling and riding a unicycle, a package reminiscent of an old-style vaudeville river show!
Morgan Simmons created the River WaterWorks organization in August of 2004 to have a context in which to complete a 2180 mile river journey. He looks forward to sharing his journey and educating people in schools and communities along the way about the importance of understanding just how water works.